My wife, Lynsey, passed away on the 25th March 2021, which has left a huge void in my life. Christmas this year will be very different without her, but I have chosen to carry on fundraising for her charity, Hope for Tomorrow. This not only helps this small charity hugely but has helped me cope with the utter bereavement, loss and grief that I am experiencing since Lynsey passed away.
Lynsey was a huge advocate for the charity Hope for Tomorrow, and she would be extremely proud to know that she was still able to help and raise awareness, even after her death.

Cancer treatment causes sheer fatigue – it's as if someone has taken your batteries out – you can't think, you can't move, you're just done in – and the nausea doesn't help. This is why receiving treatment closer to home is so vital. It saves patients time so they can have a life outside of cancer – just like Lynsey and I did. Hope for Tomorrow build and maintain Mobile Cancer Care Units, bringing treatment closer to patients who need it.
In October 2017, Lynsey was diagnosed with primary breast cancer. We had been together for years and decided that we would get married. We got married in November 2019 and asked our guests to donate to Hope for Tomorrow instead of buying us wedding gifts. We had raised well over £20,000 for Hope For Tomorrow following our wedding and now, since Lynsey passed away in March, another £13,000 plus has been raised. An incredible amount of money of which Lynsey would be fiercely proud.
We had never heard of Hope for Tomorrow before Lynsey's treatment, but we were so grateful to them and their supporters. Without their Mobile Cancer Care Units, Lynsey would not have been able to continue to work in a job she loved until, amazingly, two days before she passed away. We also had more time together, which I could not be more grateful for.
After her diagnosis, Lynsey used the Hope for Tomorrow Mobile Cancer Care Unit for five months, where she could have a weekly PICC line flush whilst having chemotherapy. Following a second diagnosis for secondary/metastatic breast cancer, Lynsey returned to the Unit in September 2019 for monthly Zometa infusions and also had her chemotherapy administered on board.
The Mobile Cancer Care Unit that Lynsey received treatment on is based in West Suffolk and is known as 'Frisbey', Lynsey affectionately called it the "party bus". She used to say that it could sometimes feel like a party on board because of the lively atmosphere and friendly individuals. We know that for Lynsey, being able to meet local ladies who were in the same situation as her had been an unexpected but added bonus. Being able to chat to someone local who was in the same boat brought great comfort and support to Lynsey.

Lynsey, being Lynsey, was a very organised, inspirational person, and she had written me lots of notes and instructions, which I was to read once she had passed away. She had even written her own obituary! Lynsey had also planned her funeral arrangements for me, including a post-lockdown version and a during lockdown version! As restrictions eased, we fulfilled Lynsey's wishes by having a celebration of her life and in Lynsey's own words, "a knees up with lots of laughter", to share funny stories of Lynsey with plenty of rum and the chance to raise money for 'The Party Bus'.
Hope for Tomorrow receive no government funding, and I am proud, like Lynsey was, to support such a fantastic charity that helps so many people.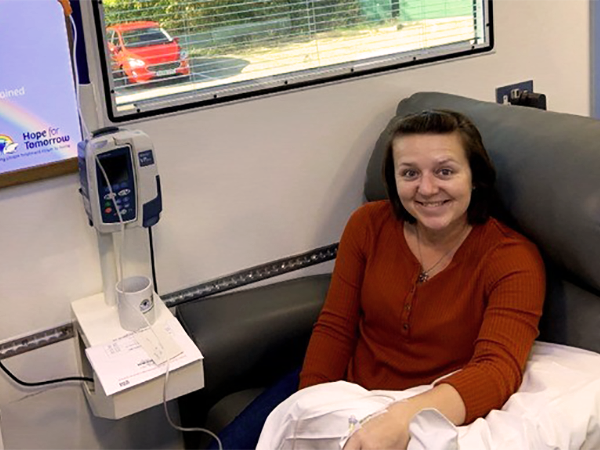 This Unit was a great benefit to Lynsey and continues to be for many more people living with cancer. Lynsey had the majority of her chemo treatments on board 'Frisbey', meaning she could carry on doing the things she loved. I am determined to continue to raise money for Hope for Tomorrow in Lynsey's memory.
Without these little Units of hope, a lot of people would be travelling miles for treatment, putting extra strain on their recovery. There are 13 Units across the country, helping patients like Lynsey from Yorkshire to Somerset.
Being able to have treatment just a couple of miles from home compared to lengthy drives, coupled with parking charges and delays, meant Lynsey was able to allow her body to cope with the side effects and pure exhaustion chemotherapy brings. Treatments on board Frisbey lasted a few hours, not all day like they would have in hospital.
Can you help by donating today? Your donation will make a real difference. You will be reducing the stress and anxiety patients and their families feel, and importantly give them extra time with their friends and family like Lynsey and I had. Without support from people like you, these Units would not run, which would be devastating for people living with cancer and their loved ones.
These Units are so important to so many people who may not be able to easily get to a hospital for their treatment. By donating, you can ensure that people living with cancer can spend more time with loved ones, doing what they want to, and not have their lives dictated around their treatment.
During the pandemic, when so many health facilities closed, the Units continued to be available for treatment – for that alone I will be eternally grateful.
I know Lynsey is no longer with us, but I am going to make sure that I continue to make her proud and raise awareness for the charity that she was so grateful for.

I will miss Lynsey forever, but I'm given strength knowing that together, we can help others who are affected by cancer.
With my sincere thanks,

Ben Davies